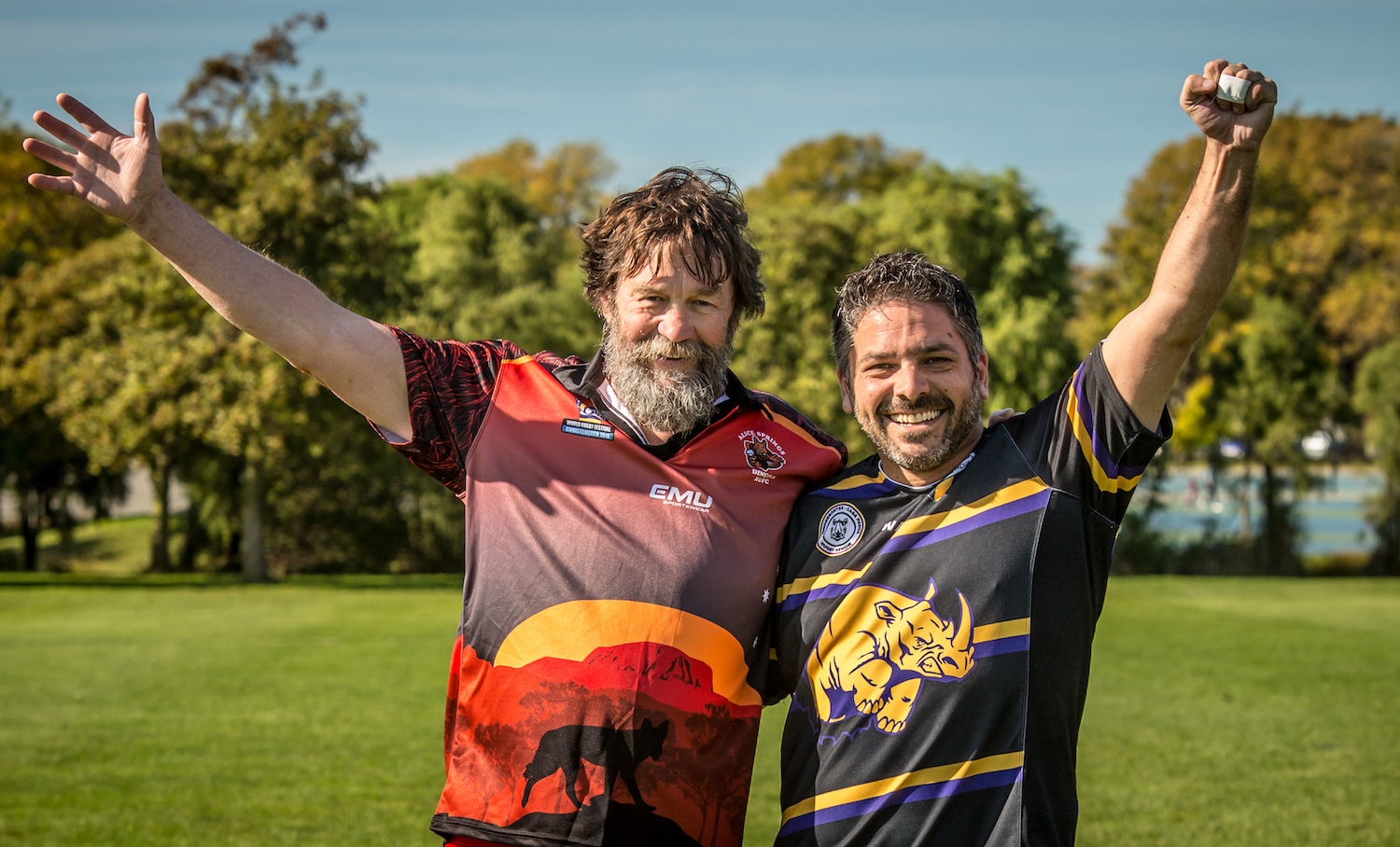 Welcome to the best week of your life.
MONDAY 8 JUNE
Opening
Ceremony
This is the day you've all been waiting for! By now, you've ideally been here a few days - acclimatising to to the high altitude and getting your bearings. Today you can explore to your heart's content, but make sure you're ready for our first big get-together later in the day. Late afternoon teams will transfer to the magnificent Infinity Park (Glendale Rugby Club) for the Welcome Party. Visiting and local teams, officials and supporters will meet, mix and mingle and enjoy a three-hour party including an open bar, delicious food and live entertainment.
Game time! Morning transfers will run to Stenger Sports Complex (Match HQ) for the first round of games. A team of Golden Oldies referees will be on hand to officiate and make sure the Golden Oldies ethos is being followed. Food and beverages will be available. And of course, each game will be followed by some mighty after-match banter. In the evening, teams will be free to enjoy the many restaurants and bars in Denver.
WEDNESDAY 10 JUNE
Picnic Day at Spruce Mountain
The ever popular Picnic Day will be hosted by the amazing Spruce Mountain Ranch. Colorado is known for its spectacular scenery, and here you'll be right in the middle of it! Teams will be transferred to this exceptional venue in the Colorado foothills (just 1hr from downtown Denver) and we will all enjoy a fantastic day of superb food, locally brewed craft beer and beverages. Teams will enjoy live entertainment and some interesting, fun and memorable activities. At the conclusion of a great day out, teams will be transferred back to their accommodation where they will have the chance to take in the vibrant Denver nightlife.
THURSDAY 11 jUNE
Game Day 2
How's the body? And the head! Game day 2 will start with morning transfers to Stenger Sports Complex. Arrangements will be the same as Day One. Although you'll get to play against another bunch of new 'best mates' and no doubt enjoy a beer or two afterwards. In the evening teams will be free to enjoy the restaurants and bars in Denver.
Today, you're free to do as you please. There are endless activities to enjoy and we'll have a host of memorable day trips available. Otherwise you're free to explore the city and its surrounds on your own. Think restaurants, retail therapy, culture and craft beer. Or you can just have a lazy day and relax.
saturday 13 JUNE
Game Day 3
The final day of matches, so make the most of it! Morning transfer to Stenger Sports Complex for the third round of games with arrangements the same as for the previous two days. Official Golden Oldies Referees will officiate. Food and beverages will be available all day and games will be followed by the customary relaxation and even more friendly banter. The evening will be free to enjoy the restaurants and bars in Denver.
SUNDAY 14 JUNE
Finale Function & Awards Dinner
The last day to relax and enjoy Denver. Maybe some last minute shopping, or enjoy more of the many local attractions. In the early evening you'll be transferred to the Colorado Convention Centre for the Golden Oldies Final Dinner and Awards. A memorable end to the week, this finale will feature a three course meal, an open bar for beer, wine and juices, presentation of Festival Awards and some very special entertainment. Four to five hours of Fun, Friendship and Fraternity at the end of a tremendous week in a fabulous city!
MONDAY 15 JUNE
Leaving Day
All done for what will be a festival to remember. New friendships made, new destination explored. All that's left to do is start planning for the next one!